The Most Unexpected Gift
Yesterday after lunch I hurried to the cafeteria to get myself a treat: some decaffe. (I've been mostly decaffeinated for several weeks now.) As I stood at the coffee bar, one of the cafeteria workers, one I make a point to chat with whenever I'm there, came by to clean the area. I joked with her that it was OK for me to put an extra packet of sugar in my coffee, since it was my birthday.
"It's your birthday?" she asked, and gave this careful consideration. "Wait here," she directed. "I bring you gift from Burma." She scurried off toward the kitchen.
I finished pouring my beverage and added cream (hazelnut, my favorite :-) ). A moment later she reappeared, holding a neatly-packaged scroll of dark cloth. It reminded me immediately of a souvenir my parents had brought back from an orchestra tour to the far east about three decades ago.
Together we unrolled the banner to reveal an eye-catching map of Myanmar, divided into provinces marked with glitter and surrounded by figures displaying glitter-encrusted native costumes. She showed me which province held her home.
I knew that she had taken a trip to Myanmar a few weeks previously. Apparently she had brought back this souvenir and kept it at work, waiting for the right moment to bestow it on someone. I'm very gratified to have been the recipient!
Thank you, Rose. What a very lovely gift!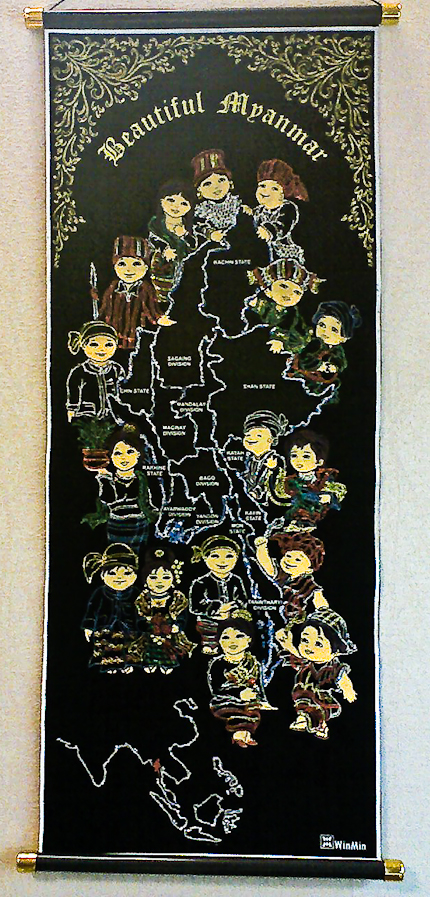 Here's the banner. Neither the camera nor the lighting were sufficient to the gift, but you can get an idea of it, at least.