Eventful Day
Today doesn't seem to have been the conjunction of all plans: that seems to be March 18, when I'll be playing for church, the kids have a Bible Bowl event (conference level) and I'm helping with a brass ensemble at a major event for Liberty Magazine. And, oh yeah, Maryland Chamber Orchestra
was
scheduled to play for a big event at Beltsville during the church service. And we've accepted a social invitation for that evening. And someone else tried to invite us to lunch that day. I'm afraid I may have been impolite: when they said "March 18" I laughed out loud. I think we arrived at a graceful raincheck after explaining the maelstrom that seems to be forming around that date on the calendar.
No, today was eventful in different ways. It was my last day on the project where I've been for the last year. I don't have a new project lined up yet, so I expect to be "on the bench" starting on Monday.
We also received our new tags for the minivan, so our two vehicles now have matching tags:
MUSICMN
and
MUSICVN
.

And, finally, I cut
my beard
.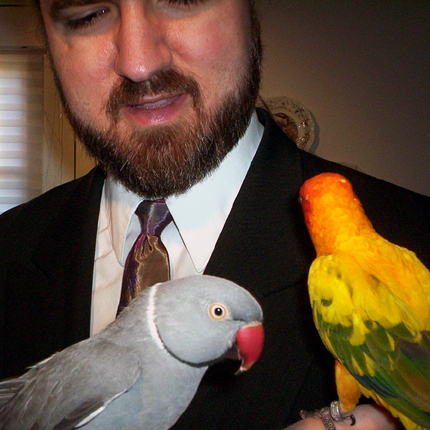 OK,
Charlie and Soleil
got into the picture too. But you still get the idea.