on Thinking of Buying a House
This afternoon my wife confessed to me. "I've fallen in love," she said.
I knew exactly what she meant. We have been praying about many things, including a larger place to live, with space for a classroom, lots of room for private and chamber-music practice, and space to get my computer books out of our bedroom. Furthermore, our home is about 40 minutes drive from our church, 32 miles from the office where I work, and on the west of town, the I-270 corridor, while all our friends and acquaintances are on the east, near I-95. So when we heard that the two townhouses on either side of J & D are both for sale, we decided it was something important to check out.
We made our way to their neighbourhood in Ellicot City and found that the larger end-unit with fireplace was already sold! We called the number on the other house and left a message for the realtor, and then decided to cruise the area while waiting for a callback. After a few minutes we found another interesting townhouse listed by a different realtor, and decided to call them in hopes of getting to see both houses. An agent named Lauren answered the phone. She agreed to meet us in about half an hour.
While we waited we got a callback from the first agent, who reported that the house beside J & D was not yet on the market, even though their sign was already out front.
After a short wait Lauren arrived with an associate, Helena. She checked and confirmed what the other agency had told us about that house being not yet on the market. She then asked me to sign a dual-agency agreement, and was confused when I refused. Since IANAL I'm not sure I understood the details, but a simple reading seemed to indicate that if I signed, Lauren would then be my buyers agent, and at this point we're so fresh into the process that we're still acting independently.
As we walked up the sidewalk Helena indicated that she knew J & D as "Dooley's people," so she must live in the area. Still, it was neat to meet someone else who knows the big Harlequin Great Dane by name.
Then we went inside, and that's when it happened. The place is a little over 1,500 square feet, so it's only a modest increase from the 1,220 we have now.
[Correction: after discussing this with our realtor we concluded that 1,500 does not include the basement, which has now been beautifully finished, bringing the living space to over 2,300 sq ft by our estimate.]
But it was gorgeous! The front room is spacious: we'll have more than enough room for piano quintets. The master bedroom has its own bathroom. And the finished basement has a huge room that will be perfect for classes and a smaller room that will do nicely for our computer books and equipment while doubling as a guest bedroom.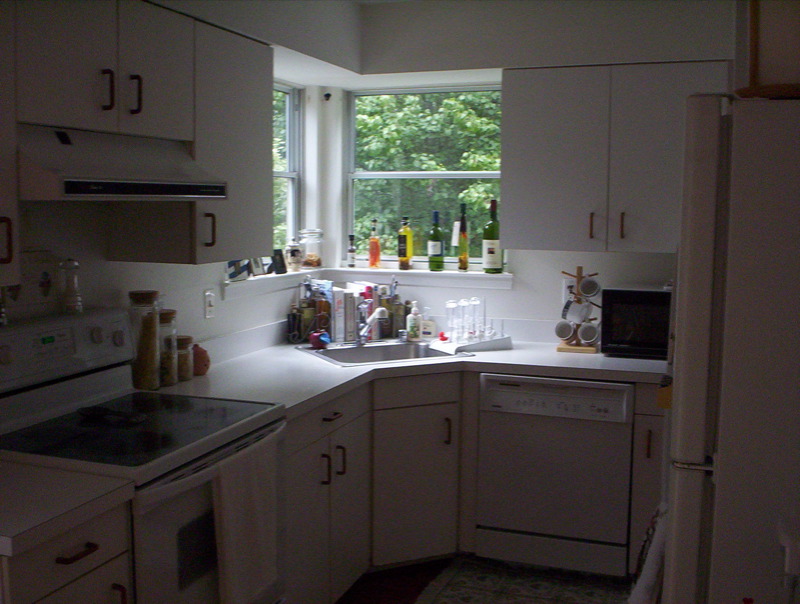 Click on this picture to view a stack of photos
Drawbacks: there's no garage, so the boat and the bikes would reside on the back patio, requiring a trek through the grass. There may be less storage space in the kitchen. Indeed, there may be somewhat less storage overall: there's no storage-ready attic space like we have here. It's less obvious where the litter boxes should be. And the master bath doesn't have a tub.
There are two things that seem to be insurmountable:
Moving: This seems like such a huge obstacle that it's very hard to imagine moving for any reason less than a job transfer. The process of packing carrying, driving, carrying, unpacking seems so enormous!

Financing: Can we even qualify for a $290K house mortgage? How much can we get for ours? How can we pay for all the odds-n-ends, like storing half our goods so this house can look saleable?